I have been a bit iffy regarding this holiday season.  As 2014 wraps up, I long for the day I can start a brand new year.  This year, well this year has not been a good one.  Yet as it comes to a close, December has brought to mind positive things.  I'd say it's the beginning of newness.  The waiting [Advent] expectantly for something good.  Meanwhile, here's a glimpse of my Christmas season:
I've put together a pretty great Christmas 2014 playlist on Spotify.  I purposefully only added music from albums released this year.  I like to think I have exceptional musical taste, so here are my recommendations, since you asked:
Miranda Dodson's It's Merry Christmas Time [I know nothing about her, except I like a couple songs I chose from her album for my playlist…plus her album cover looks strangely similar to my neighborhood donut store's logo]
Over the Rhine's Blood Oranges in the Snow [technically a winter, not Christmas album……note their remake of If We Make It Through December, a Merle Haggard song that's now 40 years old….also where I came up with the title for this blog entry…..unoriginal yet fitting….and OTR is one of my favorite groups so I'm oh.so.happy about this]
Johnnyswim's A Johnnyswim Christmas [they are absolutely great…..I love them]
Alright, no more photos of albums.  But by all means, check out Earth, Wind & Fire's Holiday [it's a fun one], Motown Christmas [their Christmas Overture-Medley is one of my favorites of this season], and Seth MacFarlane's Holiday for Swing! [throw back type….kind of classic/big band stuff].  Last but not least, I made a completely different playlist for Christmas at Downton Abbey [classical, beautiful and very British and also had a copy of the cd sent to my mom].
I made a decision earlier this year to not bring any Christmas decorations up from the basement.  No tree, no ornaments, no stockings.  None of the items our family has had around for years.  I figured, after the year I've had and with my daughter being away this year during the holidays [she's an exchange student living in Europe], all of that stuff would make me sad.  Might even send me over the edge.  Which wouldn't be good.  So, I decided to collect pine cones and evergreen branches at my neighborhood park.  Yes, I know it seems rustic, but it works for me.  This time around.  I've made some simple decorations.  My son and I are not putting up a tree.  We'll be away on Christmas day anyway, celebrating with my parents and sister's family.
My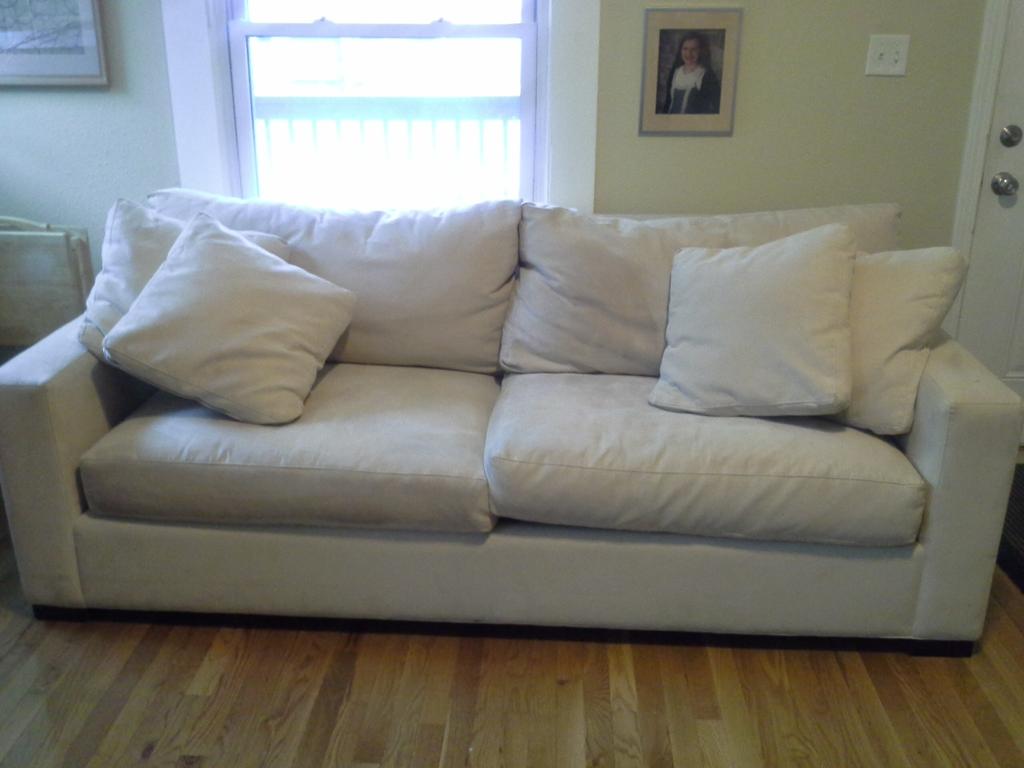 neighbors gave me a couch!  Their daughter was giving one away and they thought of me.  My old couch [actually a love seat] was not in the best condition, so I couldn't be happier with the new scenario.  The new couch is bigger, cleaner, in better shape, and looks much better.  I have the best neighbors.  They even delivered it.
I spent a good part of last weekend baking holiday goodies.  I made all new stuff this time around.  Out with the old and all that. I have started giving it all away to friends and neighbors.  I am really excited about these little guys:
This past week I went way.way.way.way [like 5000 miles] out of my comfort zone and did something brave.  I took a risk.  While the scenario did not turn out the way I had hoped, I am proud of myself.  Yes, I know you're curious but there is no way in Helsinki I am going into details [as Jack Bauer would say, 'millions of lives are at stake'…..not really but it's personal, okay?]
My son is home for the holidays, which makes me happy.  Upon his return, he ran the Reindeer Ramble, a 5K benefiting our YMCA, with me.  Actually, he ran way ahead of me.  I believe it was a personal best 5K time for me, which although is by no means fast, it was a nice accomplishment.  It's wonderful to hear him practicing classical guitar here at the house.  I was able to attend two of his guitar concerts in December at the University of Louisville.  Later this week he will accompany me to Le Deauville, a  local French restaurant.  This will be he and I's holiday meal/celebration together, as we'll be heading for Oklahoma [where the wind comes sweepin'] for Christmas.
Le Deauville is a bit of an ironic choice for us, since our resident French speaker, Allie, is out of the country for Christmas this year.  Words cannot express how very much I miss my sweet girl and will especially miss her Christmas week.  Yet, in my heart I know she is right where she needs to be, especially for Christmas 2014.  So far this season, she's visited Vienna and Prague.  Not bad, right?
Other highlights of this month have been attending a Habitat home dedication for a family involved in the mentoring program my workplace runs.  The house is in my neighborhood, and will now be the home of a mom and her teenage son.  Hearing the mom thank her son's mentor [who was in attendance] publicly was pretty emotional.  I've had other opportunities this month to celebrate with my coworkers, our interns, and the families and volunteers we work with.  I've had a renewed realization of the importance of our work.  Plus we have fun.
I suppose in some ways, this entry has turned out to be, in a way, one of those update letter type things people often send out at the holidays, except mine only covers December.  Since December has been by far, my best month this year, I decided to spare you and allow you, if you choose, to share in my joy.  Feliz Navidad and all that jazz.  I think I'm gonna make it through December.  Which means I'll make it through 2014……which is no small accomplishment, let me tell you.